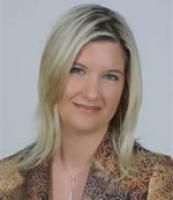 Education
1986–1990
Árpád Secondary Grammar School, Tatabánya
1990–1995
Teacher Trainer College
1990–1991
Apáczai Csere János Teacher Trainer College then
1991–1995
Teacher Trainer College, Budapest
1995
Journalist Trainer Subject at Modern Business Science College, Tatabánya
2002
Competition Writer Course launched by the University of Miskolc
2003
Real Estate Expert and Assessment Course
I was born in Tatabánya. After leaving Árpád Secondary Grammar School in Tatabánya, I started my higher studies at the Apáczai Csere János Teacher Trainer College in Győr then I continued my studies at the Teacher Trainer College in Budapest and  I took my degree here in 1995.
During my studies I was always in close connection with literature, my writings were published in the local newspaper and in a literary periodical respectively. I was going to be a journalist therefore after leaving the Teacher Trainer College in 1995 I enrolled for a course at the Journalist Trainer Branch of the Modern Business Science College in Tatabánya where I studied journalism. Unfortunately, I could not finish this course because in the meantime our family enterprise was started and I helped there where I worked as a business manager from 1996 to 2001. Between 2001 and 2003 I was a business relation maintainer at a printing company. During this time I did not deal with writing. I only helped in stylistic corrections at the company.
In 2002 I took an expert exam in writing competitions that I took on the outlaid branch of the University of Miskolc.
In 2003 I took a real estate expert and assessor qualification.
Since 2003 I have been working at my present workplace, the Citibank where I am a firm manager and business relation maintainer on the marketing line.
I have a first-level language exam in English and now I am preparing for the medium level.
I like doing creative tasks.
I have a 9-year-old son and due to his stimulation, I began to write a novel for children that I have recently finished.
I would like to deal with writing and at present, I am anxious to see that I find a publisher to my novel that is set in America.
Now, a question can come up. Why am I working in a bank with such a literary attitude? Well, it is simple. I like my work but I would like best if I can deal with only writing. However, up to that time, there is a long way and the path must be beaten too…
I am persistent and fortunately, I also get a lot of encouragement.