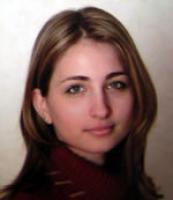 Education:
2001-2005
Budapest Business School, Hungary, College of International Management and Business 
BA degree in International Business Economics
Majored in European Business Studies
Jan-May 2005
Georgetown University, Washington, D.C, USA
The Fund for American Studies scholar
Jul 2004
Interdisciplinary course: American Institute on Political and Economic Systems, Prague, Czech Republic
Organized by Georgetown University (Washington) and Charles University (Prague)
Studied and debated the applicability of American political and business models in Europe
1997-2001
Mihály Károlyi Secondary School of Economy and Foreign Trade, Budapest, Hungary
Qualification: Foreign Trade Administrator 
Work Experiance and Community Activity:
Jan-May 2005
Washington, D.C., USA: American Telephone and Telegraph Company (AT&T), Innovation Center
Planning and executing events to support AT&T's corporate messaging to primary constituents such as customers, policymakers, investors, media and employee.
Aug-Dec 2004
Vienna, Austria: Austria Card Plastikkarten und Ausweissysteme Ges.m.b.H. - subsidiary of the Austrian Central Bank (OeNB - Oesterreichische Nationalbank) International Banking Department
Main duties: document translation, writing offers, delivery notes, invoices, arrange weekly bank card sendings, calculation of prices, establish and maintain connection with Banks
2003-Present
Active member of the student organization of the Hungarian Economic Association at the College of International Management and Business of the Budapest Business School
I am organizing conferences, lectures and seminars for college and university students.
Language Skills:
English: Fluent, active - Professional Intermediate level exam in 2000
Aug 1999 San Diego, California, USA: three-week intensive English course at Language Studies International
Spanish: Fluent, passive - Professional Intermediate level exam in 2004
Jul 2003 Valladolid, Spain: one-month intensive Spanish course at International House Valladolid – scholarship of the Budapest Business School, College of International Management and Business
German: Beginner 
Jul 2002 Vienna, Austria: one-month intensive German course at Alpha Language School
Hungarian: Native language