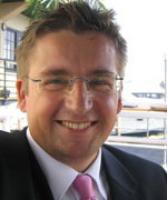 PROFESSIONAL EXPERIENCE
Ferenc B.Nagy is a business graduate with six years of business development/marketing and sales experience in real estate, aviation, and IT industries. 
He is the consultant of the MBA director of Niagara University on domestic and foreign promotion of the University's MBA program to implement joint academic programs.
Before he was awarded a 2-year full scholarship to come to the United States , he worked for Malev Hungarian Airlines, where he planned and implemented marketing campaigns for the foreign representative offices in London , Frankfurt, Brussels , Amsterdam , Moscow , Oslo , Copenhagen , Helsinki and Stockholm . He also worked for viaNovo.hu a youth-oriented Internet portal, a product of American venture capital and media firms. After graduating from Niagara University in 2004, as a Business Development Manager, he worked for a Buffalo , NY based Escapewire Solutions, a leading provider of technology solutions for the hospitality and convention industry.
Ferenc is an active member of the Calasanctius Training Program (CTP) that enables selected Hungarian students to study at American universities through academic scholarships. The mission of the CTP is to contribute to the professional and moral education of talented Hungarian Christians who already are or have the potential to become leaders in their community and business and active participants in the country's developing society. In Europe and the United States , he is seeking new academic scholarships for Hungarian talents whose service is vital to the social and ethical development of the Hungarian economy through their personal knowledge, behavior and values. CTP was developed in 1994 by Dr. Peter Forgach, a Hungarian-American eye surgeon in Buffalo , N.Y. , a graduate of University of Notre Dame and recipient of the Hungarian Presidential Award.
Since his arrival to the United States four years ago, Ferenc has been organizing a traveling digital panoramic photo exhibition to showcase Hungary using 360-degree photo imaging technology. This unique exhibition celebrates the diverse urban architecture of Budapest and rich countryside of Hungary . The photos are accompanied by information on Hungary 's history, education, politics, religion, gastronomy, geography, culture, and contributions to science.  Hungarian folklore dancers, presentations on R&D, investments and spa tourism, and wine tasting have also been nice compliments to the exhibition, which has traveled to 11 locations, including cultural centers, social events and universities from California, to Florida and Europe, i.e.: the Consulate General of the Republic of Hungary in New York City, Berlin, Germany and Buda Castle, Budapest, Hungary.
Ferenc has a strong educational background with an MBA from Niagara University , New York , a BA from Oxford Brookes University, England, a Business Law degree from ELTE, Hungary and a Marketing Communication Diploma issued by International Advertising Association, New York , NY . He holds strong leadership, business and networking skills and offers an international perspective.
He is interested in history, photography, arts, reading, and chess.