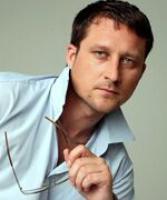 www.kakucsicsernakzoltan.com
Allow me to introduce myself, my name is Kakucsi Csernak Zoltan, and I am an artist. Since my birth I have lived in Kakucs, and since 2006 I have also had my name changed to bear the name of my hometown. I still currently live here, in this small town, not far from Budapest.
While I was studying to become a sculptor, I took certain courses, as part of my education, in drawing and painting. I instantly took a liking to this form of art and realised that I was far more at home on the canvass than I was with the "coldness" of sculpting. I felt this was a much more appropriate way to express myself.
My first steps to becoming a painter were mentored by Jánosi Csaba and Simon Katalin (as part of the "Art 16" group). Last but not least, and still to this day Tóth Rozália, who in her ways as an artist inspired me and still does to take the road to uniqueness of expressionism, mentors me. I consider my key role as an artist, catching the moment and then presenting this to the viewers.
I believe, that the most important role of an artist is to capture the "moment" and to sneak a moment of peace into the heart of the viewer to visage the moment the way the artist saw it, and in the mayhem and rush of today's world, to allow them to see and appreciate true value and worth. Deriving from this, I don't just stick to a specific subject and therefore, just one form of expressionism. I believe that the "subject" can be portrayed in many forms; therefore even a landscape or a portrait can be expressed in many forms. Contrary to this, I try not to loose my way of seeing the "subject" as this is what gives life into what I am creating and thus is able to fulfil its duty of creating emotions and feelings when looked upon by the viewers.
If this honest and true nature of free-thinking is missing, then no matter how well the art has been created, it will fail to inspire in the moment, hence the art has lost its value and so has the artist. I wish you a pleasant time while browsing through my paintings.
EXHIBITIONS
[2008] "Ünnepváró"- Pusztai Galéria-Budapest Stefánia Palota

[2008] Feketesas Szalon-Szeged

[2008] Classical Artist Worldwide-Budapesti Kongresszusi Központ

[2008] "Felhötlen Vigalom"-Vác

[2008] "A hid" Nemzetközi,nemzetek közötti kiállitás-Vác

[2008] Miskolc-vigadó

[2008] "A nö"-Vác Duna'P art galéria

[2008] "Tavaszi zsongás"-Fót Ijúsági ház

[2008] Audi A4 premier -Audi szalon Miskolc

[2007] Jótékonysági kiállitás-Örkény Müvelödési ház

[2007] "Magyar pillanatok"-Vác

[2007] Egri várnapok-Eger

[2007] Váci Világi Vigalom-Duna P'art galéria

[2007] Classical Artist Worldwide-London-Anglia

[2007] Pusztai Galéria � Fót

[2006] Adventi ünnepi kiállítás - Kakucs

[2006] Koren-ART karácsonyi kiállítás - Szentendre

[2006] �Magyar tanyák� � Sidney, Ausztrália

[2006] �Letunt idok� - Királyrét

[2006] Florida - USA

[2006] Westend City Center - Budapest

[2006] Ottawa � Kanada

[2006] Mediterrán kiállítás - Vác

[2006] Váci Világi Vígalom - Vác

[2006] Max City Kortárs alkotók kiállítása� Budaörs

[2006] Oltárkép szentelés � Újlengyel rk. Templom

[2005] Art Hotel jótékonysági kiállítás a Bethesda utcai gyerekkórház javára � Budapest

[2005] Vecsési Muvelodési Ház � Vecsés

[2005] Kékmadár Galéria

[2005] XIX. Országos Képzo-és Iparmuvészeti tárlat

[2005] Mercedes Stuttgart � Németország

[2005] Jasin Bútorház � Dabas

[2005] Kossuth Muvelodési Ház � Dabas

[2002] Széplaky Galéria - Budapest