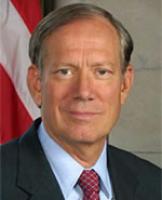 George E. Pataki 57th Governor of New York, USA serving from January 1995 until December 2006.
Growing Up On The Family Farm
George Pataki learned the values of hard work, family, and community while growing up on his family's farm in the small town of Peekskill in New York's Hudson River Valley.  He and his brother worked the fields alongside their parents and sold produce at a roadside stand.
It was this experience on the farm that formed George Pataki's core governing philosophy: a strong belief in people, not bureaucracy; pursuit of smart ideas that work; and the expansion of personal freedoms so that hardworking citizens can enjoy the benefits of their hard work.
In his own life, George Pataki saw the American Dream become reality through the hard work and determination of his family.
Understanding the Importance of Freedom at an Early Age
George Pataki has never forgotten sitting with his father, grandparents, aunts, and uncles watching on television with great pride - then with great sadness - as thousands of men, women, and children fought for freedom in the streets of Budapest during the Hungarian Revolution of 1956.
Their unrelenting commitment to freedom despite overwhelming odds was a defining moment in the George Pataki's life, helping to shape his deep faith in the human spirit and the ability of individuals to improve the future for their families and their nation.   Their love of freedom and country inspires him to this day.
Hard Work Pays Off
The lessons of hard work that George Pataki learned as a boy paid off when he earned academic scholarships to attend Yale University and Columbia University School of Law.
Mayor of His Hometown
George Pataki's political career began when he returned to Peekskill to start his own family on the same farmlands where he grew up.  Unfortunately, he discovered that the Peekskill of his youth was fading away.
Rather than move his family away from the community that they loved, George Pataki resolved to take action.  He decided to run for mayor and fight to change his hometown for the better.
In 1981, Republican George Pataki defeated a Democratic incumbent to become the Mayor of Peekskill and set out on a political career characterized by a dedication to confronting problems with common sense, pragmatic solutions.
George Pataki arrived in the New York State Legislature in 1984, where he served for ten years.  In the spirit of President Ronald Reagan, he became a strong voice for conservative values - fighting for budget reform, tax cuts, and safer streets in a political environment dominated by the failed policies of then-Governor Mario Cuomo, a liberal icon.
Conservative Values Triumph over a Failed Liberal Experiment
In 1994, New York State was plagued with skyrocketing taxes, runaway spending, swelling welfare rolls, and ever-growing crime rates.  New York was among the most dangerous states in America and one out of every eleven residents was on welfare.  George Pataki decided that the time was right to challenge Mario Cuomo and bring a new era of prosperity to New York State.
George Pataki was elected Governor of New York on November 8th, 1994, defeating the 12-year incumbent Cuomo in a come-from-behind victory.
Leading New York From Crisis to Comeback
From his first day in office, Governor George E. Pataki committed himself to making the streets safer, restoring New York's economy with pro-business policies, and expanding freedom and opportunity for all New Yorkers.
New York State, once the undisputed leader in raising taxes, became a national leader in cutting taxes.  During his tenure, Governor Pataki's tax cuts provided New Yorkers with over $140 billion in tax relief.
George Pataki fervently believes that cutting taxes creates jobs, and that rewarding hard work and encouraging independence and opportunity are the best ways to put people to work. His economic conservatism as Governor resulted in the creation of approximately 700,000 new private sector jobs in New York State.  His strong commitment to tax relief, combined with his pro-growth, pro-job economic policies, brought New York's economy back from the brink of disaster.
A National Leader in Reducing Violent Crime
In addition to economic crisis, George Pataki inherited a state that was plagued with violent crime.  As Governor, his tough approach to criminals and common sense criminal justice reforms made New York's streets and neighborhoods safer than they had been in a generation.  New York State led the nation in reducing violent crime and was the safest large state in America when he left office.
Defending Freedom At Home and Abroad
On September 11th, 2001, New York suffered the greatest attack on American soil in our nation's history.  Thousands of innocent citizens lost their lives, and thousands upon thousands more were affected by the devastating aftermath of the attacks.
Governor Pataki provided critical leadership immediately after the terrorist attacks, coordinating city, state, and federal resources for rescue and recovery operations in Lower Manhattan while reassuring people across the country that the Empire State and the United States would recover and rise to new heights.
In the months and years following September 11th, Governor Pataki was the primary architect of an unprecedented effort to rebuild and revitalize Lower Manhattan.  Strong and sensible pro-business policies allowed New York's economy to recover quickly from the attacks.  Today, with a record number of residents and construction underway on the future 1,776-foot Freedom Tower, Lower Manhattan is stronger than it has ever been.
George Pataki believes that the single most important priority for America is keeping our people safe from future terrorist attacks.  As Governor, he passed some of the earliest and toughest anti-terror laws in the nation.
The Pataki Family
Governor Pataki and his wife Libby reside in Garrison in New York's Hudson River Valley. They have four children: Emily, a Yale Law School graduate; Teddy, who serves in the United States Marine Corps; Allison, a student at Yale University; and Owen, a student at Cornell University.
The Pataki Record
As Governor of New York, George Pataki enacted the largest, most comprehensive campaign of state-level tax cuts in U.S. history, saving taxpayers more than $140 billion.
Governor Pataki's tough-on-crime policies transformed New York into the safest large state in America.  Under his leadership, New York led the nation in reducing violent crime.
Governor Pataki led the coordinated city-state response to the terrorist attacks of September 11th.  Since that tragic day, his leadership of the rebuilding effort has made Lower Manhattan even stronger than it was before the attacks.
A strong advocate of smaller government, Governor Pataki slashed the state workforce by 20,000 positions and reduced red tape and unnecessary regulations.
George Pataki strongly believes in breaking our dependence on foreign oil.  As Governor, he mandated the usage of alternative energy by the state government and established grants and incentives to grow the alternative fuel market.
Governor Pataki made school choice a priority during his term, passing landmark legislation that dramatically expanded charter schools.
George Pataki's pro-growth policies created 700,000 new private sector jobs in New York State during his tenure as Governor.
Under Governor Pataki's leadership, New York State passed the toughest anti-terror laws in the nation.
When he became Governor, George Pataki inherited a $5 billion budget deficit.  When he left office, New York was in far better financial health and had its highest credit rating in a generation.
An avid conservationist in the tradition of Theodore Roosevelt, George Pataki preserved over a million acres of open space as Governor of New York.
Through innovative programs like Centers of Excellence, Governor Pataki has made New York State an emerging international leader in the high technology field.